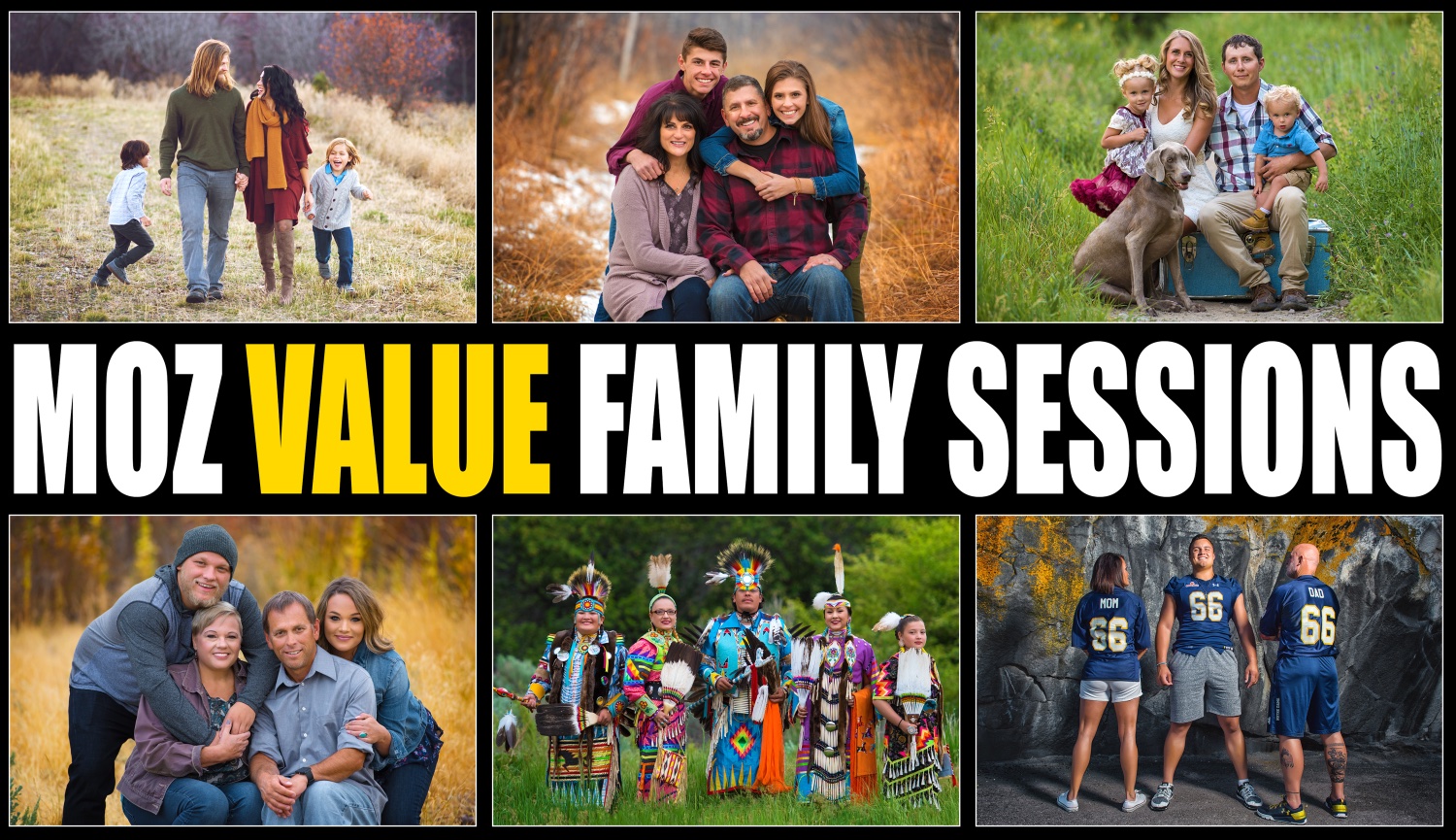 MOZ VALUE FAMILY SESSION
WE FEEL EVERYONE SHOULD BE ABLE TO HAVE THE MOZ EXPERIENCE, SO WE HAVE DESIGNED OUR MOZ VALUE SESSIONS FOR EVERYONE. YOUR EXPERIENCE AND YOUR IMAGES WILL BE THE VERY SAME QUALITY AS ANY OF OUR OTHER SESSIONS AND PRODUCTS. THE ONLY DIFFERENCE IN THE VALUE SESSIONS FROM OUR REGULAR SESSIONS ARE THE DAYS AND TIMES THEY ARE OFFERED. VALUE SESSIONS ARE AVAILABLE MONDAY THRU FRIDAY FROM 9AM TO 2PM.
YOU WILL RECEIVE A HALF HOUR STUDIO SESSION, ONE VIEW SESSION. THERE ARE NO REFUNDS OR EXCHANGES ON THE PURCHASE FOR ANY REASON OR ANY CANCELATION. OFFER IS GOOD FOR A FAMILY OF 6 OR LESS. THERE WILL BE A $15 CHARGE FOR ADDITIONAL MEMBERS. SESSION IS FOR ONE IMMEDIATE FAMILY AND NOT MULTIPLE FAMILY UNITS. OFFER IS GOOD FOR ONLY FAMILY SESSIONS AND NO OTHER SESSION TYPES. IF YOU WOULD LIKE YOUR VALUE SESSION TO BE ON LOCATION THERE IS AN ADDITIONAL $125 LOCATION FEE.
Before we ever take a session or book a client we have a pre-session consult to make sure we can provide the photography experience and images you deserve! We prefer to have the consult at the studio, but we will do them over the phone when scheduling or distance does not allow. The consult lasts about 15 minutes. We discuss clothes choices, makeup, hair and any other choices critical to your session. Then we go over all the different product options we have for you. My studio offers paper, metal, and canvas prints, as well as albums, books, cards, invitations, announcements and digital files. We finish up the consult with you picking the date of your shoot. Whatever the session you choose, the fee for that session is due at booking. Your paid session hold your date and time.
Schedule your consult by picking a date and time from the calendar below.